Ultrasonic Deep Face Cleaning Scrubber
Regular price $63.99 USD $45.99 USD Sale
---
poup with stuff in it
close
---
Are you on an never-ending quest to banish your blackheads?  This Ultrasonic Deep Face Cleaning Scrubber will help you get clear, healthy skin. 
Features:
Metal touch sensor strip on both sides, when in use, your hands should keep the touch sensor on both sides, then the ion function can work.
Ultrasound + positive: deep skin cleaning, remove dirt, excessive fat, melanin, cutin, and blackheads.
Ultrasonic + negative ion: leading nutrition, improve skin tone, reduce wrinkles and whiten skin.
Simple operation interface, ultrasonic, +/- ion, multi-function function.
25000 times by second ultrasonic vibration with mild heating, promote blood circulation, accelerate the speed of cellular metabolism of the skin, soften the old keratin, restore skin elasticity, And make the skin tighten and Smooth.
Massage: massage and remove wrinkles, firming and lifting the skin.
It will close automatically after 10 minutes of use.
Rechargeable design, after 2 hours of full charge, can be used continuously for 1 hour.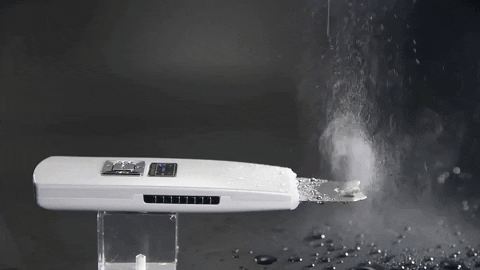 Note:
1. Do not use this device around the eyes, injured skin, dermatitis caused by cosmetics, inflamed parts of acne, or remodeling parts.
2. this device will have a low noise due to ultrasonic vibration, which is a normal phenomenon, please feel free to use.
3. Remember that this device should be used with skin cream or liquid, you can not use it in dry conditions.
4. Children, pregnant women, and patients with severe heart disease cannot use this device.
5. Please keep your hands dry when using this device, otherwise, the power supply may be short.
6. After use, please clean the probe with a dry cloth and disinfect it by alcohol.
Specifications:
Material: ABS + stainless steel
Input: 100-240 V 50 / 60Hz
Output: 5 V 1A
Power: 5 W
Battery: 3.7 V 500 Mah
Charging time: 2 hours
Using time: 1 hour
White color
Size: 17.5 * 4.5 * 1.5 * cm (length * width * thickness)
Weight: 182G
Package includes:
1X Skin scrubber
1X Adapter
1X User's manual (English)
Processing:
The processing time for the order is same day to 8 days ( depending on the product ). We do not ship out the product on weekends.
Shipping
* The estimated delivery time for the product is 8 days ( best side ) to 4 weeks ( higher side )
* Shipping is Free on most of the products unless specified.
For more details see: Shipping Policy