Keep Your Phone Safe & Secure While Riding
All metal construction - no cheap plastic here!
There's nothing worse than dropping your expensive phone when going 60 mph on the highway. Our durable all metal construction ensures that your phone will still be there allowing you to enjoy your ride.
Keep your phone secure while riding your Motorbike or Cycle. Our Aluminum Alloy Phone Holder is secure, safe and will keep your phone in its place while riding. 
It is easy to install also comes in a wide range of colors so you can match your bike or your personality. A great gift for that riding enthusiast. The stand will let you rotate your phone 360 degrees easily, so you can have your phone landscape or portrait, really useful if you are using the GPS on your phone. You can have your phone at easy glance and have access to all your apps easily.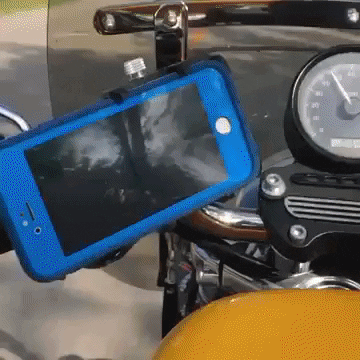 Features and Benefits:
Compatible with your favorite phone case or even no case
360 degree rotation giving you the best use of the valuable handlebar space! (Must select option with rotation)
Handlebars don't have much in the way of real estate. Most the most of the limited space by having the option of a horizontal or vertical orientation (of anything in between). Especially great for bikes where the larger phones mounted vertically can hit the gas tank.
Fits phones from 2.5 - 4 inches wide.
Have that brand new over-sized model from Apple or Samsung? No problem
Fits a large range of phone sizes
Future proof your holder. It's flexible enough to still work for you even after you upgrade your phone! Bigger phone - no problem! Smaller phone - no problem!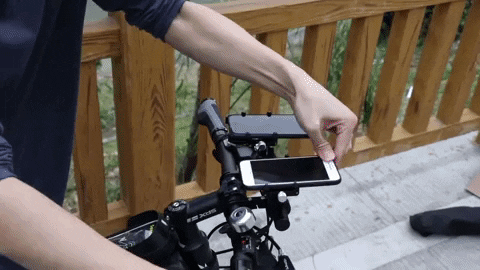 Included Everything Required for Installation
All the parts to mount on your handlebars are included…you don't need to waste time trying to figure out if you have the right mounting clamp, the right size holder or mount. It's all included with your order to fits round handlebars from 7/8 - 1 1/4 inches.
Super Easy to Install
Can be Installed in minutes - It's one screw and everything is included right down to the Allen key.

Keep your phone in view 
At a glance you tell if you want to answer the caller, giving you the option of ignoring your phone or pulling over to take that important call or get your important message.


Experience Phone features and applications on the Go.
GPS Navigation :With GPS, you can easily avoid traffic and always find your way. The only way to get lost is if you want to.
Rider Apps :Have the your favorite rider app open and explore biker friendly locations
MP3 Player : Enhance your ride with your favorite playlist at your fingertips

Avoid having to constantly pull over
Instead of pulling over every few minutes to check directions, let your phone tell you each turn needed

Compatible with Motorcycles, Scooters, ATVS Bicycles, and E-Bikes 
Have lots of toys…the phone mount will allow you to take it with you from Motorcycle to bicycle, to Scooters to E-bikes, and even your ATV. As long the machine has round handlebars between 7/8- 11/4 inch diameter or get one for each

Item specifics
Material:

Aluminum

Capacity (Load):

Fits 3.5" to 6.2" smartphones

Pro 1 Weight:

103g

Pro 2 Weight:

113g

Style 1:

Basic four claws-Pro 1

Style 2:

Upgrade six claws-Pro 2

Style 3:

Pro 1+Aluminum Alloy base

Style 4:

Pro 2+Aluminum Alloy base